Centrum MultiGummies Adults 50+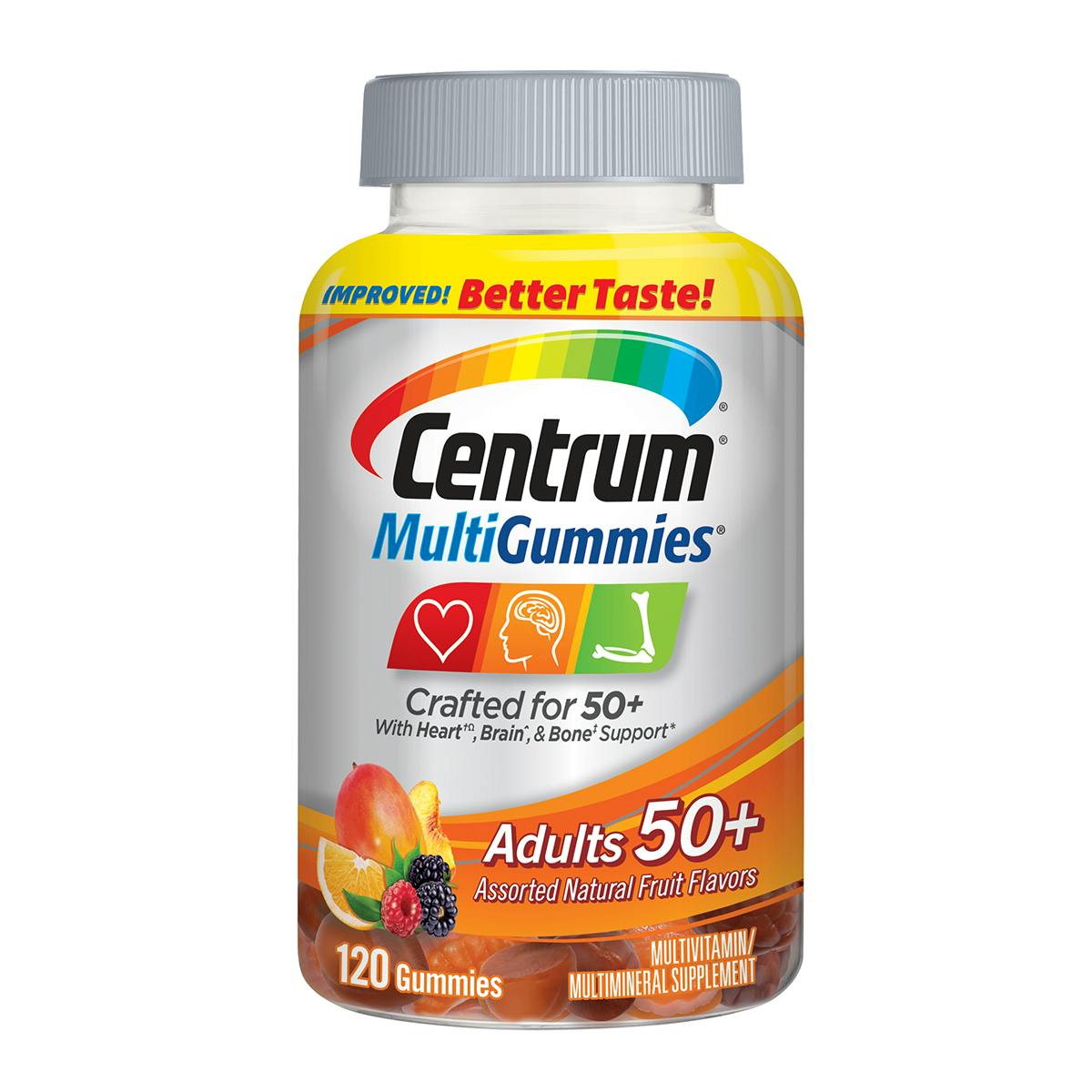 This delicious gummy is filled with vitamins and minerals to meet your changing health and wellness needs in your 50s and beyond. Centrum MultiGummies Adults 50+ is a fruit-flavored multivitamin supplement formulated to fill the essential nutritional needs for healthy aging, like high levels of B vitamins for heart+§ and brain° health, and calcium and vitamin D to help maintain healthy bones.*

Specially crafted, age-adjusted formula to help support heart health,+§ support normal brain function°, and maintain strong bones◆.*
Contains 100% or more of the daily value of essential micronutrients, vitamins B12, D, and E.
Comes in assorted natural fruit flavors, including refreshing cherry, berry, and orange.
Gluten-free with no artificial flavors or sweeteners.

Heart Health
B vitamins to help promote heart health.+*

Bone Health
A combination of vitamin D and calcium helps maintain strong bones.*

Brain Function
Zinc and B vitamins – key nutrients to support your brain health.*

General Wellness
Packed with key essential nutrients important in supporting your whole body and to help meet your nutritional needs.*

Vitamin B12
Vitamin B12 is a water-soluble B vitamin with a key role in the normal functioning of metabolism and formation of blood.*

Vitamin E
Vitamin E mainly functions in the body as an antioxidant, supporting heart and eye health, and plays a role in immune function.*

Biotin
Biotin is essential for enzymes involved in metabolism and it supports hair, skin, and nail cells.*

Vitamin D
Vitamin D is central to healthy bones and influences cell growth and immune function, keeping inflammation in check.*

Vitamin B6
Vitamin B6 plays a role in supporting the nervous system and the production of immune system cells.*

Pantothenic Acid
Pantothenic acid is a B vitamin that assists in a wide variety of functions including generating energy from carbohydrates, fats, and proteins.*

Suggested Use
Adults: Take two (2) gummies daily. Do not exceed suggested use. Not formulated for use in children.

Q: Is it safe to take Centrum MultiGummies with other Centrum multivitamin products?
A: Centrum MultiGummies is a multivitamin. Therefore, this product should not be taken with other products containing vitamin A or folic acid. We always recommend that you check with your healthcare professional about the best dietary supplement plan for you to follow.

Q: What is the best time of day to take Centrum MultiGummies?
A: The fat-soluble vitamins A, D, and E are best absorbed with some fat. Therefore, it may be beneficial to take your Centrum MultiGummies with a meal. You may also want to take your Centrum MultiGummies at the same time each day to make it part of your daily routine.


Q: What are the benefits of taking a multivitamin such as Centrum?
A: Multivitamins are intended to be used as part of an overall healthy lifestyle and can help fill the needs in one's diet to support people in getting the recommended daily amounts of key vitamins and minerals needed each day. Take multivitamins as part of a healthy diet and exercise routine.

Compare any two products to see the amounts and daily values of vitamins and supplements in each.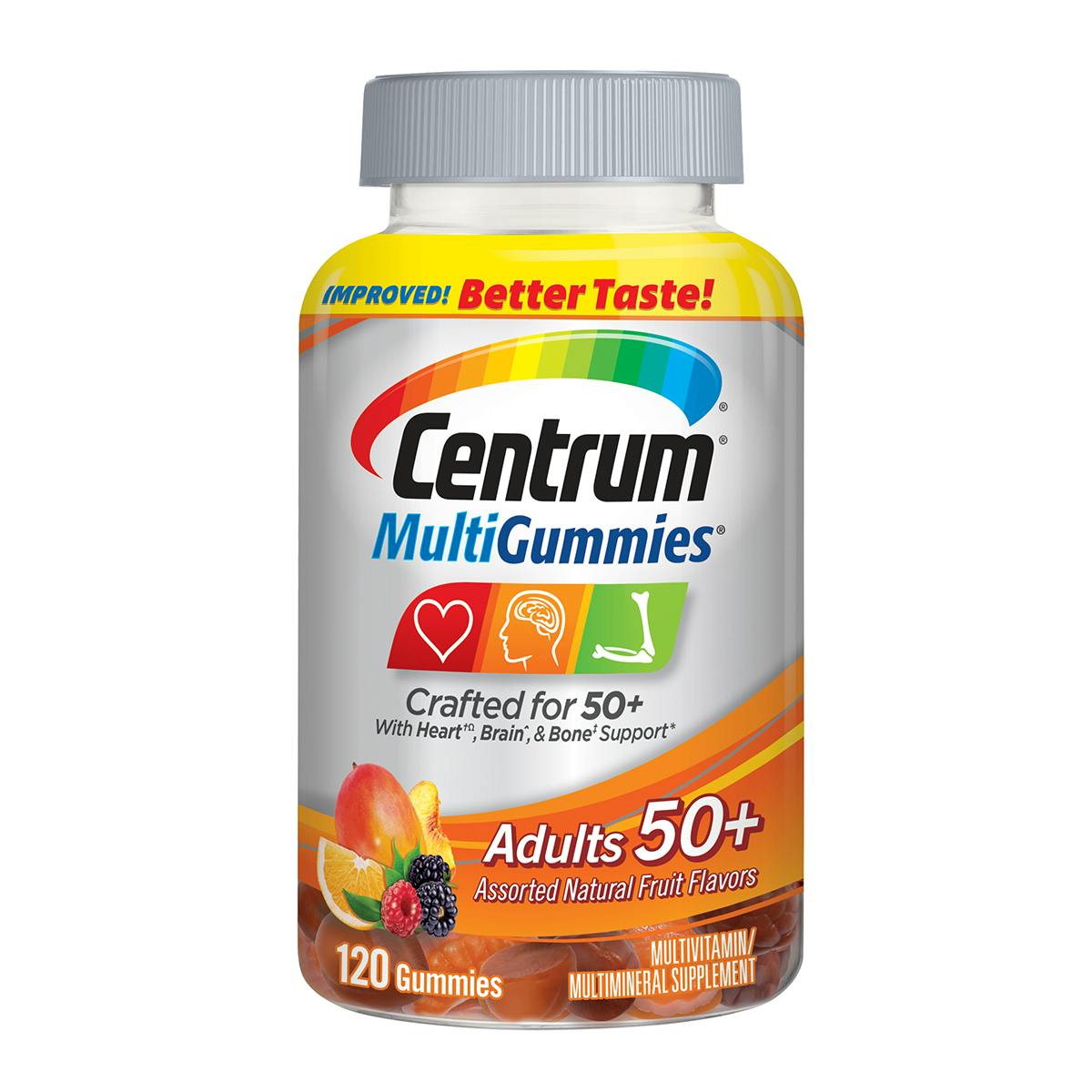 + Not a replacement for cholesterol-lowering drugs.*
§ B vitamins help support heart health.*
° Zinc and B vitamins help support normal brain function.*
◆A combination of vitamin D and calcium helps maintain strong bones.*

*This statement has not been evaluated by the Food and Drug Administration. This product is not intended to diagnose, treat, cure, or prevent any disease.