Centrum Maternal Health PreNatal Multivitamin Gummies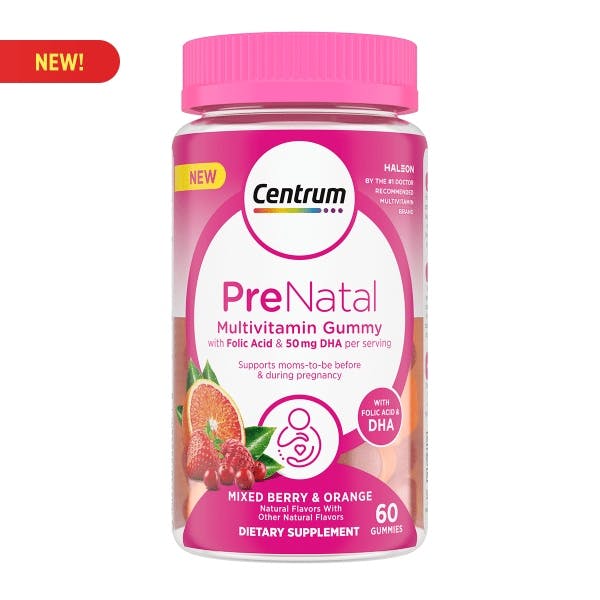 While moms do everything they can for their little one on the way, it's important they care for themselves, too. Centrum Maternal Health PreNatal Multivitamin Gummies are an easy, delicious way to supplement your diet with vitamins and minerals that support mom's health before and during pregnancy, and for baby's growth and development.*
Formulated for use before and through all trimesters of pregnancy
Contains 50 mg DHA to support baby's growth and development*
Contains Vitamin D to support bone health for both mom and baby*
Contains Folic Acid to support fetal brain and spinal cord development, and 10 other key nutrients for mom's needs during pregnancy and baby's development*
Does not contain iron, which can upset the stomach
2 gummies per serving
Delicious mixed berry and citrus flavors
Does not contain common allergens wheat, milk, soy, egg, peanut, true nuts, fish, and crustacean shellfish
No high fructose corn syrup, artificial flavors or sweeteners, or synthetic dyes​
Gluten free and non-GMO​
Bone Health
Vitamin D helps maintain strong bones for mom and baby.*
Brain Function
Folic acid is a key nutrient that supports baby's brain development
Immune Health
Vitamins C and E support normal immune function.*
Maternal Health
Key nutrients that support women's health and wellbeing after pregnancy.*
Folic Acid
Folic Acid supports fetal brain and spinal cord development.*
Vitamin D
Vitamin D supports bone health for both mom and baby.*
DHA
DHA supports baby's brain and eye development.*
Iodine
Iodine is a mineral that supports baby's brain health and growth and development.*
Suggested Use
Adults: Take two (2) gummies daily. Do not exceed suggested use. Not formulated for use in children.
Q: How many Centrum PreNatal Multivitamin gummies should someone take?
A: Suggested use for Centrum PreNatal Multivitamin Gummies is two (2) gummies per day.
Q: Who should take Centrum PreNatal Multivitamin Gummies?
A: Centrum PreNatal Multivitamin gummies are for women during pregnancy, as well as before pregnancy. Planning for a healthy pregnancy includes eating a healthy diet and taking a prenatal vitamin. It is widely recommended to begin taking a prenatal vitamin before you become pregnant and to continue throughout pregnancy.
Q: Why are Centrum PreNatal Multivitamins a gummy, rather than a tablet?
A: Some women may find that gummy multivitamins are easier to take during pregnancy, especially for those experiencing discomfort and sensitivities. With two tasty flavors of gummies in the bottle, Centrum PreNatal Multivitamins are a delicious way to get essential nutrients during pregnancy.
Q: Where can I buy Centrum PreNatal Multivitamin Gummies?
A: Centrum PreNatal Multivitamin Gummies and other products in the Maternal Health line can be ordered from select online retailers and delivered right to your door each month.
Learn more about purchasing Centrum PreNatal Multivitamin Gummies.
Q: Do Centrum PreNatal Multivitamin Gummies contain artificial ingredients, GMOs, or allergens?
A: Centrum PreNatal Multivitmain Gummies are made without high fructose corn syrup, artificial sweeteners, artificial flavors, or synthetic dyes. They're non-GMO and gluten free, and free from common allergens like wheat, milk, soy, egg, peanut, tree nuts, fish, or crustacean shellfish.
Learn more about the ingredients in Centrum PreNatal Multivitamin Gummies
Empty heading23445RD
Compare any two products to see the amounts and daily values of vitamins and supplements in each.
PreNatal Multivitamin Gummies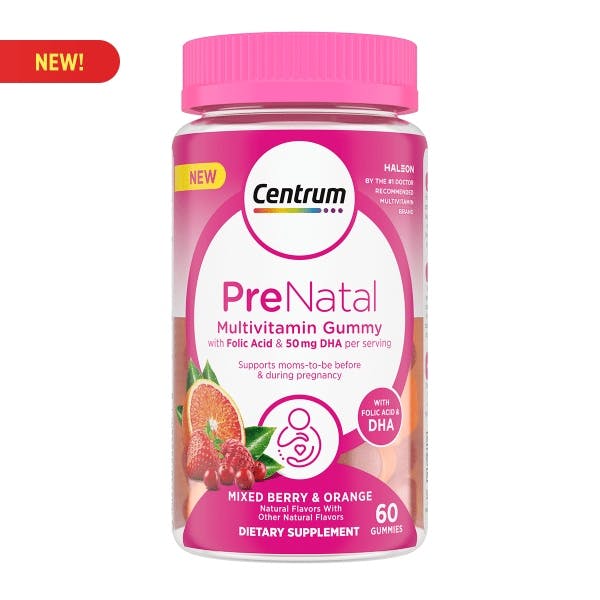 Supporting Moms' Mental Health
1 in 7 moms3 and 1 in 3 Black and Hispanic moms4experience postpartum depression. To support moms at every stage of motherhood, Centrum is partnering with Postpartum Support International to shine a light on maternal mental health. Call the HelpLine:

1-800-944-4773
#1 En español or #2 en English
NEW! A multivitamin gummy that supports new moms with essential nutrients like Biotin for hair, skin, and nail health, Vitamin C for immune support, and Iodine to support baby's development through breastfeeding.*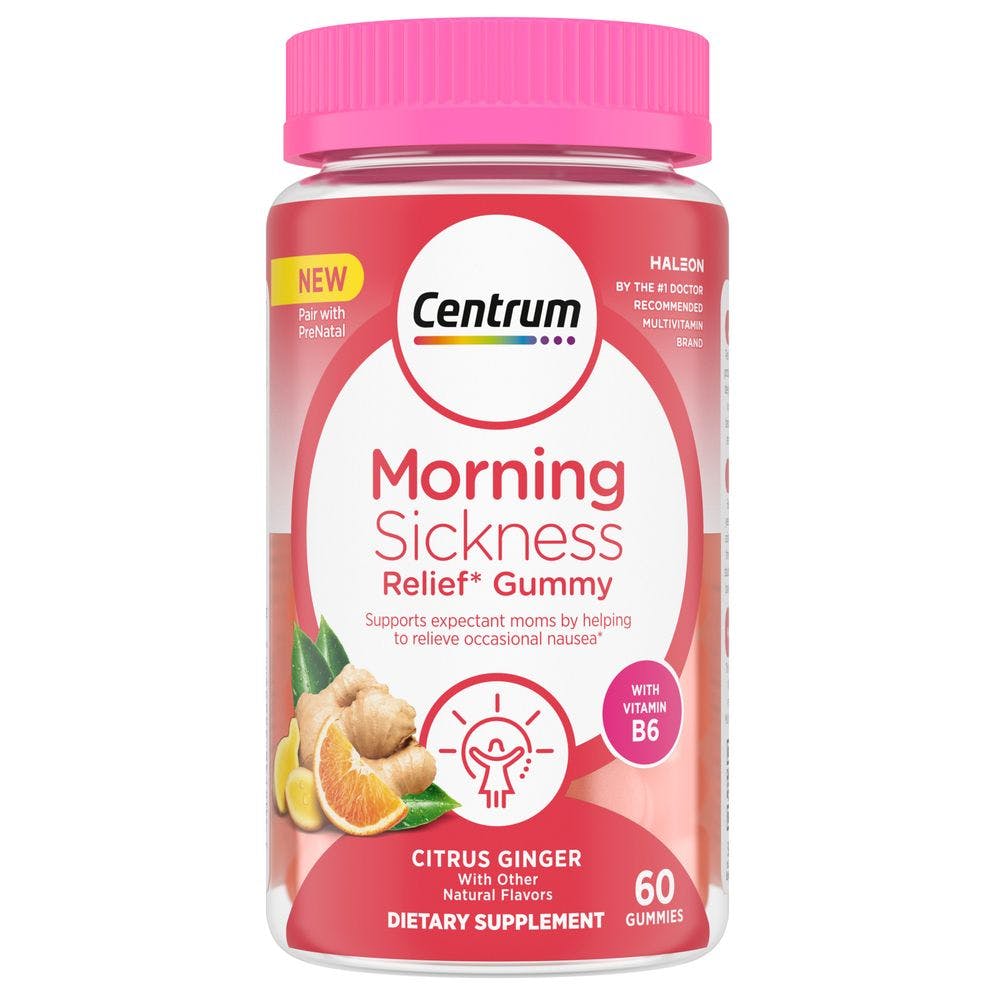 NEW! A gummy supplement formulated with Vitamin B6 to help moms-to-be find relief from occasional nausea and morning sickness.* These tasty gummies are made with real ginger.
*This statement has not been evaluated by the Food and Drug Administration. This product is not intended to diagnose, treat, cure, or prevent any disease.