Get a jump on your day with daily vitamins and supplements. Centrum Wellness Packs are supplements to support overall health and well-being, scientifically selected for men in their 30s.* In each pack, a complete multivitamin and three additional supplements work to keep your body supported all month—perfect for men looking to power up their 30s.*
Along with the complete multivitamin, each wellness pack contains a vitamin D3 supplement to support muscle function and immune health, a vitamin B-complex supplement that supports metabolism, and a vitamin C supplement to provide immune support.* Centrum Wellness Packs Men 30+ are formulated to support your body's needs and promote overall health.*
Contains one multivitamin and three additional supplements to support muscle health¥¥, metabolism±, and immune health.<*
Complete multivitamin contains 100% or more of the daily value of 18 essential vitamins and minerals.
Contains a vitamin B-complex to support metabolism and daily energy.*
A vitamin D3 supplement provides 125% of the nutrient's daily value to help maintain muscle health.*
A 1000 mg vitamin C supplement provides immune support.*
Each pack provides a 30-day supply to support overall health and well-being all month long.*
Gluten free and free of artificial flavors.
Made in the USA with select ingredients from around the world.
Muscle Function
Vitamins D and B6 help support muscle function*
Energy
B-Vitamins to help support daily energy needs*
Immune Health
Vitamins C and E and zinc, to help support normal immune function*
Thiamin
Thiamin is necessary for the proper function of muscles and the nervous system.*
Riboflavin
Riboflavin is a B vitamin that promotes energy production for your cells and helps your body process carbohydrates, fat, and protein.*
Vitamin B6
Vitamin B6 plays a role in supporting the nervous system.*
Vitamin B12
Vitamin B12 is a water-soluble B-Vitamin with a key role in the normal functioning of metabolism and formation of blood*
Vitamin D
Vitamin D is central to healthy bones and influences cell growth and immune function, keeping inflammation in check*
Vitamin C
Vitamin C is essential for immune health, as well as the repair and maintenance of muscles, skin, bones, and teeth*
Q: Where can I buy Centrum Daily Wellness Packs for Men in their 30s?
A: Centrum Daily Wellness Packs for Men in their 30s can be ordered online and delivered right to your door each month.

Q: How are Centrum Daily Wellness Packs Men 30+ designed for my 30's?
A: The Wellness Packs were scientifically developed by the experts at Centrum to support the health and nutrition goals you may be focused on in each stage of your life. Each packet is tailored to your age, containing 1 multivitamin and 3 high quality supplements.


Q: How are Centrum Daily Wellness Packs Men 30+ different from Centrum Tablets?
A: Centrum Daily Wellness Packs Men 30+ are tailored to provide nutritional support with selected supplements to help power up your 30s. Each carton contains 30 daily wellness packets including 1 multivitamin and 3 scientifically selected supplements to support the health goals of men in their 30s.

Q: When is the best time to take my Centrum Daily Wellness Pack?
A: Some vitamins such as A, D and E are best absorbed with some fat, so it is beneficial to take your supplements with a meal. Each Wellness Pack comes in convenient and portable packets so you can take your multivitamin and supplements at the time that works best for you each day.
Explore more products from Centrum and see how Centrum Specialist Heart Health Multivitamins compare.

Centrum Wellness Packs Men 30+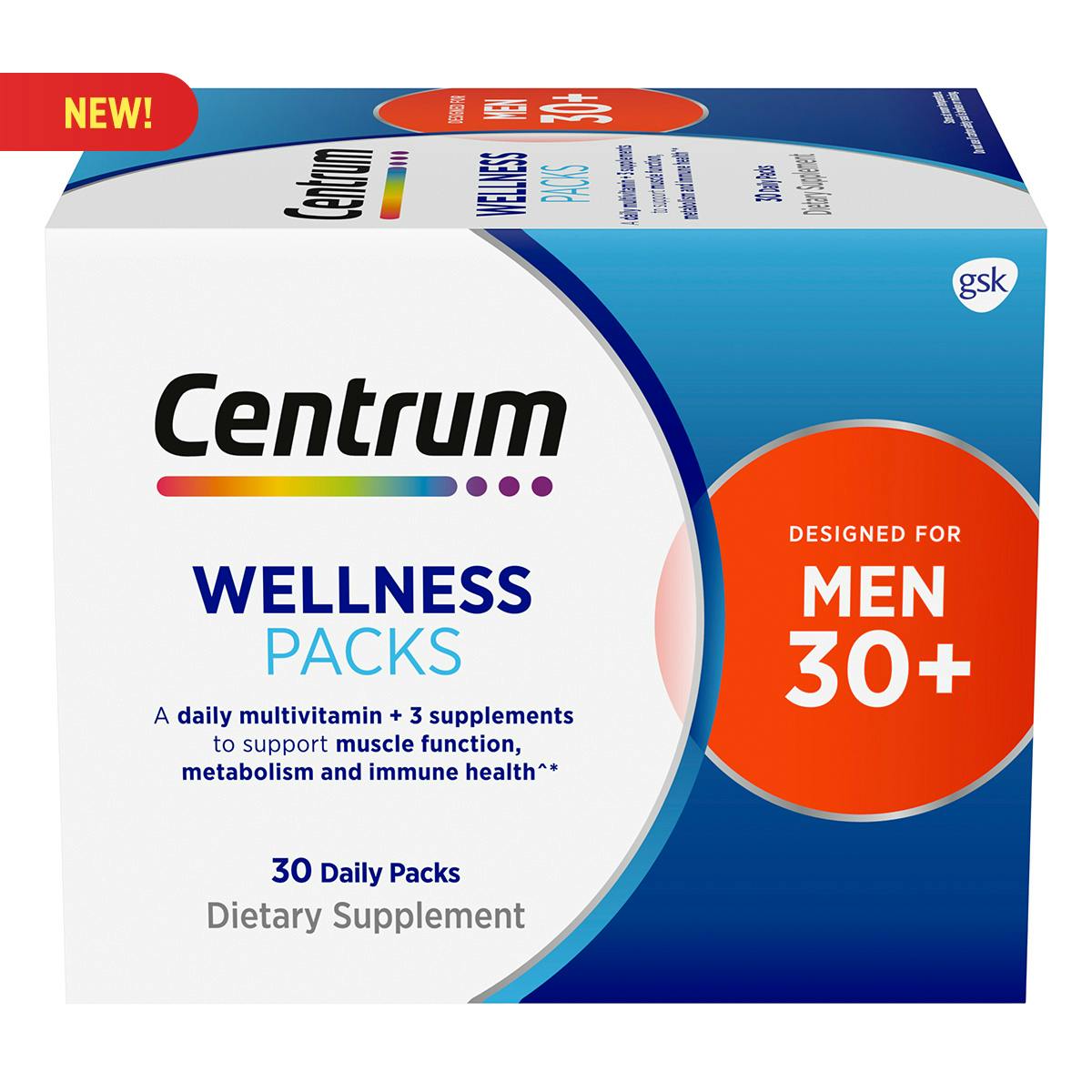 ¥¥ Magnesium and vitamins D and B6 help support muscle and nerve function.*
± B-Vitamins aid in the metabolism of fats, carbohydrates, and proteins.*
< Zinc and vitamins A, C, and D3 to support immune health.*
*This statement has not been evaluated by the Food and Drug Administration. This product is not intended to diagnose, treat, cure, or prevent any disease.