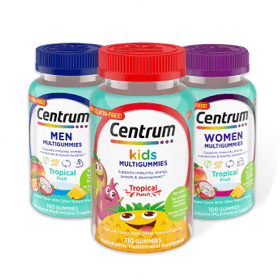 Centrum MultiGummies in tropical fruit flavors

Find your sweet escape and discover daily wellness made with good-for-you ingredients for men, women, and kids!

For Your Body's Needs

Committed to helping you feel your best, we've crafted an array of vitamins and dietary supplements that work in harmony with your body and support your body's unique needs.

Proven Nutritional Science

Through our expertise, we use the latest in nutritional science to carefully select the right nutrients that deliver the effective vitamins and dietary supplements.

A Legacy of Health
We've been at the forefront of the vitamin and dietary supplement category for over 40 years and have become the most recommended multivitamin brand. With our scientific heritage, we provide you with tried and trusted products.
*This statement has not been evaluated by the Food and Drug Administration. This product is not intended to diagnose, treat, cure, or prevent any disease.