5 Things to Do When Not Feeling Well and Bored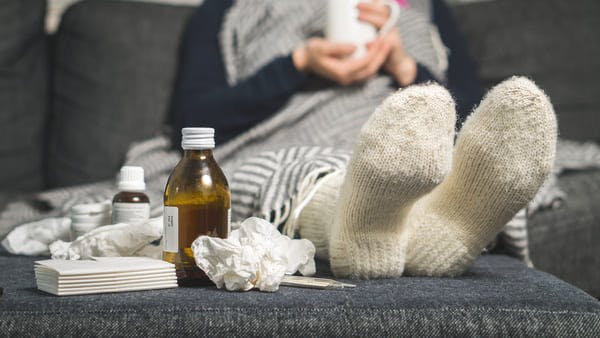 We all know the feeling of day three or four of not feeling well—the fog has lifted and we no longer feel like napping but our bodies aren't running at 100 percent yet, so we still have to stay at home in bed. If you're nodding your head right now, read on for some ideas of things to do when you're not feeling well and bored at home that will help you beat the sick-day doldrums!
1. Write

Have you always dreamed of writing a novel but have never been able to find the time to write? Now you have no excuse! Even if you're not working on the next Great American Novel, writing is a great way to pass the time. Journal, write a letter to a friend or family member you haven't seen in a while, or even make a list of food you want to eat again when you regain your sense of taste, it doesn't matter! Just put a pen to paper and get going.
2. Take a bubble bath
Light some candles, cue-up some calming music and unwind with a warm, relaxing bath. Add some essential oils like lavender, lemongrass, or frankincense for a special touch. If you're not able to take a full body bath, treat yourself to a warm foot bath instead.
3. Simple stretches or bed yoga
If you're not up for your typical workout routine but still want to get your body moving, try simple stretches or some extra-gentle yoga poses. Don't have the energy to get out of bed? No problem! Ease into movement with some simple bed-yoga poses, like a seated twist.
4. Phone a friend
Just because you're a little under the weather doesn't mean you can't socialize! Give a friend or family member a call on the phone and chat about your day. Hearing the voice of a loved one is much more personal than sending a text message and a sure way to brighten both of your days.
5. Get crafty
Channelling some creativity into crafting is a fun and engaging thing to do when you're not feeling well and bored. Fold some origami (some easy figures include dogs, frogs and turtles), teach yourself how to knit or crochet, cut out shapes and images from a magazine and paste them into a collage, try your hand at watercolors, or sketch the scene outside your window.
For more wellness resources on topics including food and nutrition, immune support and stress management, be sure to visit the Learning Center.