5 Healthy Homemade Lunch Ideas for Adults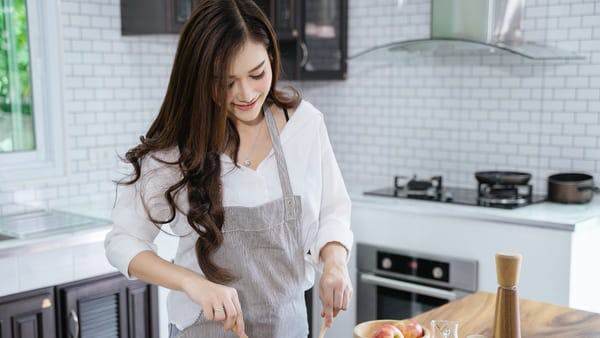 Working from home brings a whole new lunch scenario. Instead of grabbing something on the go, you can make lunch from the comfort of your kitchen with whatever ingredients you have on hand. Putting together a delicious, well-balanced lunch at home doesn't have to mean hours away from your desk. In this article, we put together 5 healthy homemade lunch ideas for adults that are sure to inspire.

Kale Salad with Avocado and Lemon
Try this superfood-packed dish that is sure to satisfy your taste buds.

Ingredients:
1 bunch of kale
1 cup extra virgin olive oil
1/3 cup lemon juice
1 avocado
Salt
Pepper
Directions:
Give the kale a good wash to remove excess dirt. Let the kale drain and then pat it down until the leaves are dry.

Cut or gently tear the kale into bite-size pieces and add to a large bowl.

Add the olive oil and lemon juice to the kale and mix it in using your hands until the kale has been fully coated in the mixture.

Massage the kale by working in the oil and lemon juice using your hands for around five minutes.

Next, cut the avocado into small pieces and add it to the bowl with the kale.

Season with salt and pepper to your liking. Serve.

Grilled Cheese with Spinach and Feta

Take your grilled cheese game to the next level by adding in spinach and feta!

Ingredients:
½ Tbsp. olive oil
1 clove of garlic
¼ lb of frozen cut spinach
Pinch of salt and pepper
2 ciabatta rolls
1 cup of shredded cheese
1 oz feta cheese
Directions:
Cook minced garlic over medium-low heat in olive oil for 1-2 minutes or until it begins to soften.
Once the garlic is cooked, add in the frozen spinach, turning the heat up to medium. Let the spinach cook for about 5 minutes or until most of the moisture from the spinach has evaporated.
Grab the ciabatta rolls (or other bread of choice) and slice them in half.
Sprinkle shredded cheese of your choice onto the open face of the rolls.
Spoon the warm spinach and garlic mixture on top of the cheese and add salt and pepper to your liking.
Sprinkle on a layer of feta cheese.
Close the sandwich and place it back in the warmed pan, letting it cook until crispy on both sides or until the cheese has fully melted.
Remove from heat, slice, and serve warm.
Pasta Salad with Spinach and Green Beans

This Pasta Salad with Spinach and Green Beans is healthy and delicious with just a few ingredients.

Ingredients:
2 cups of cooked small tubular pasta
2 cups of chopped green beans
2 cups of shredded spinach
3 cloves of garlic, minced
¼ cup of olive oil
½ cup of Parmesan cheese
Salt to taste
Fresh lemon juice to taste
Directions:
First, cook the pasta per the instructions on the box.
Next, add green beans and freshly minced garlic to a pan. Add a little bit of olive oil to the mixture to keep the ingredients from sticking.
Sauté the green beans and garlic in the olive oil until the green beans turn bright in color and become tender. Once the garlic becomes fragrant, you'll know the ingredients have fully cooked.
Add the green bean and garlic mixture to a large bowl with the cooked pasta. Add a splash of olive oil and mix well.
Chill the pasta salad in the fridge for 30 minutes to 1 hour.
Once the mixture has cooled, pull it out of the fridge and mix in the spinach.
Top with Parmesan cheese, salt, and fresh lemon juice to taste, and enjoy!
Tomato Avocado Pressed Sandwich

This Tomato Avocado Pressed Sandwich is a quick and healthy lunch for a busy work day.

Ingredients:
2 slices bread
1-2 tsp. mayonnaise
Cayenne pepper, to taste
1 small Roma tomato, thinly sliced
1/2 avocado, thinly sliced
4 slices of cheese (your favorite kind)

Directions:
Pull out your favorite loaf of bread from the pantry.
Spread a layer of mayonnaise onto each slice (or substitute mayonnaise with your favorite condiment).
For a little extra heat, add a sprinkle of cayenne pepper to the slices of bread.
Thinly slice one Roma tomato and half an avocado.
Neatly stack the slices of avocado and tomatoes on the bread with mayonnaise.
Top off with a layer of cheese.
If you have a panini press, place the sandwich inside and let it cook for 2 – 3 minutes, or until the cheese is melted. If you don't have a panini press, then broil the sandwich in the oven for a few minutes, or until the bread is toasted to a golden brown color.

Sweet Potatoes with Stuffed BBQ

Try these tasty stuffed sweet potatoes that are melt-in-your-mouth good.

Ingredients:
2 medium sweet potatoes, halved
1 lb. boneless skinless chicken breasts, cooked and shredded
1/3 cup BBQ sauce (less/more, to your taste)
Handful of baby greens (like baby spinach or arugula)

Directions:
First, preheat the oven to 425 degrees Fahrenheit.
Grab the sweet potatoes and cut through them lengthwise down the middle.
Place the potatoes on a baking sheet, cut side up.
Put the potatoes in the oven and let them roast until tender (around 30 minutes). The roasting time will vary depending on the size of your sweet potatoes.
Combine the shredded chicken with BBQ sauce in a saucepan over medium to medium-low heat. Cook for 5 – 10 minutes, or until the mixture is warmed through.
After the potatoes have fully roasted, pull them out of the oven. Let them cool for a few minutes.
Spoon the chicken mixture over the top of the sweet potatoes, distributing it evenly on each of the halves. Garnish with your favorite leafy greens and enjoy!

Now when lunch hour approaches, don't skip it because you don't want to waste too much of your work day. Let this list of healthy homemade lunch ideas for adults inspire you to create simple and healthy meals in no time! For additional resources, check out the Expert Corner for articles on nutrition, diet, and more.