Support Beyond Pregnancy
You give so much of yourself to being a mom. Your time and energy are dedicated to caring for your baby and tending to their every need. You're doing everything you can, but you're at capacity. Becoming a mom feels like you're becoming less like yourself, with little time left to meet your own needs.
If you've felt this way, you're certainly not alone. Through a partnership with Postpartum Support International, Centrum is on a mission to support women in their mental health, because you deserve just as much love as you give your baby.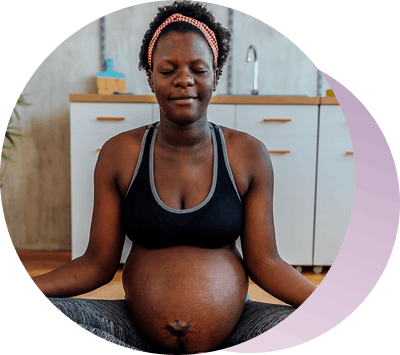 Support Before, During, and After Pregnancy
Why does a prenatal multivitamin matter?
Diet and nutrition are important for a healthy pregnancy and baby's growth. However, even the most mindful diet could be low in several key nutrients that support your body's changing needs during pregnancy, as well as your baby's growth.
Centrum PreNatal Multivitamin Gummies include essential nutrients like:
Folic Acid – helps cells grow and supports brain function for mom and baby*
DHA – supports a healthy pregnancy and baby's growth*
Iodine – supports baby's neurodevelopment and mom's hormonal health*
Ask your doctor if Centrum PreNatal Multivitamin Gummies are covered by your HSA or FSA as part of your health insurance plan.
What is pregnancy-related nausea?
Many women experience occasional nausea during their pregnancy. It's more common during the first 3 months of pregnancy, and though it's often called morning sickness, it may occur at any time of day.
While research on pregnancy-related nausea hasn't found a direct cause, this could be related to hormonal changes. Research also shows that vitamin supplements can help moms-to-be find relief.1
Centrum Morning Sickness Relief* Gummies include the essential nutrient Vitamin B6 to help alleviate occasional nausea.
Centrum Maternal Health Multivitamins
Why does a postnatal vitamin matter?
Your body changes during pregnancy, and after giving birth, supplementing your diet with key nutrients can help support your baby's health during breastfeeding. As your body continues to change with motherhood, the right nutrients can support energy levels, immune health, and more.
Centrum Maternal Health PostNatal Multivitamin Gummies include essential nutrients like:
Vitamin C – supports mom's immune health*
DHA – supports mom's health postpartum and baby's growth through breastfeeding*
Biotin – supports hair, skin, and nail growth*
Why is postpartum health important?
The postpartum period begins after the delivery of the baby and can last for several weeks after. This period is important for the short and long-term health of both mom and baby.2
As you support your baby with time and energy, postpartum health also includes the support you give your own body through post-pregnancy changes. Giving your body the right nutrients to ensure overall health and well-being is just one way you can do that.
Centrum Maternal Health Multivitamins
Supporting Moms' Mental Health
1 in 7 moms3 and 1 in 3 Black and Hispanic moms4experience postpartum depression. To support moms at every stage of motherhood, Centrum is partnering with Postpartum Support International to shine a light on maternal mental health. Call the HelpLine:

1-800-944-4773
#1 En español or #2 en English
Frequently Asked Questions
Q: When should I take Centrum PreNatal Multivitamin Gummies?
A: Centrum PreNatal Multivitamin Gummies can be taken before pregnancy and throughout all trimesters of pregnancy. It's recommended that women who are pregnant start to take Centrum PreNatal Multivitamin Gummies as soon as possible in their pregnancy, since it contains nutrients like folic acid and DHA that are important for your baby's development.*
Q: Why should I take Centrum PostNatal Multivitamin Gummies?
A: Centrum PostNatal Multivitamin Gummies are specially formulated to support mom's postpartum nutritional needs and baby's development through breastfeeding. These multivitamin gummies have nutrients that support immunity, energy levels, as well as hair, skin, and nail growth postpartum, and support your baby's growth and development.*
Q: What ingredients are in Centrum Maternal Health Gummies?
A: All Centrum Maternal Health Gummies are made without high fructose corn syrup, artificial sweeteners, artificial flavors, or synthetic dyes. They're non-GMO, gluten free, and free from common allergens like wheat, milk, soy, egg, peanut, tree nuts, fish, or crustacean shellfish.
Learn more about Centrum's commitment to non-GMO and gluten free products.
By clicking any of the links below you will be taken to an external website that is independently operated and not managed by Haleon. Haleon assumes no responsibility for the content on the website. If you do not wish to leave this website, do not click on the links below.
*This statement has not been evaluated by the Food and Drug Administration. This product is not intended to diagnose, treat, cure, or prevent any disease.